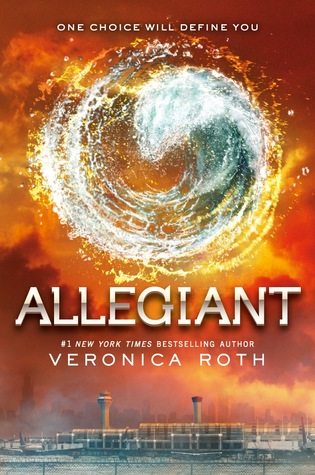 The faction-based society that Tris Prior once believed in is shattered—fractured by violence and power struggles and scarred by loss and betrayal. So when offered a chance to explore the world past the limits she's known, Tris is ready. Perhaps beyond the fence, she and Tobias will find a simple new life together, free from complicated lies, tangled loyalties, and painful memories.

But Tris's new reality is even more alarming than the one she left behind. Old discoveries are quickly rendered meaningless. Explosive new truths change the hearts of those she loves. And once again, Tris must battle to comprehend the complexities of human nature—and of herself—while facing impossible choices about courage, allegiance, sacrifice, and love.

Told from a riveting dual perspective, Allegiant, by #1 New York Times best-selling author Veronica Roth, brings the Divergent series to a powerful conclusion while revealing the secrets of the dystopian world that has captivated millions of readers in Divergent and Insurgent.
Review:
I'm going to keep this short and sweet because I could really rattle on and on about this book and series all day long. I know there are a number of people really angry about this book and I just have to disagree with them. I loved it and I love this series. I know some of it can seem to drag on about technology and the history behind this city but I felt like I learned the most about their past and present in Allegiant than any other book. We settled a lot different plot lines in these pages plus had quite the number of surprises along the way. If you don't want to be spoiled I would stop reading right now.
Tris had to die. I'm sorry but it's the truth. This conflict was never going to end with her being alive and moving on. She became the hero we all thought she was all along by saving everyone but losing her own life. I thought the author took a major risk doing this to main character but it was the risk worth taking in a series that has been unique as this. Tris went out in a blaze of glory while saving the people that she loved and it felt right. This wasn't the happily ever after that we all want for our beloved character but it was the right ending. The only complaint I had with Allegiant was the narration. We spent two other books in Tris' head and didn't need Fours. I would actually rather have seen the entire book played out in her own head and when she dies have Four narrate the rest. That would have been a much better transition for me to hear. It would have played out much like the novellas that have been interwoven into the series along the way rather than introduce this new perspective in the last book. It seemed strange and awkward but I understood why we needed his eyes at the end. This series has been a really great ambassador for the YA Dystopian genre and I think aided in gaining a lot of fans from young to old for other books like it. I'm sad to see it go but for me this was a great goodbye.

-My Opinion- ****4 Stars